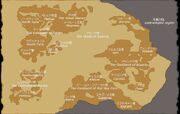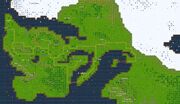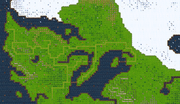 The world in which Elona takes place is known as Ilva or Irva (it's not clear which English spelling and pronunciation is correct), which is currently in its eleventh era, known as Sierre Terre. The original Elona game itself takes place in the region of North Tyris, which is ruled from Palmia by King Xabi and Queen Stersha. The region was also the location of an ancient civilization known as Nefia.
Other regions of the world include Yerles, Eulderna, Zanan, Vindale Forest, and South Tyris. Yerles and Eulderna are at war, with North Tyris often being caught in the crossfire. Zanan and the Elea of Vindale Forest are also at war, with rumors saying that the Vindale Forests are the source of the Etherwind. According to dialogue with NPC's, there once was an eastern nation called Karune, which was devastated and brought to ruin by the Ether Disease.
North Tyris
[
]
Towns
[
]
Other areas
[
]
Dungeons
[
]
See here for info on dungeons.
Terrain
[
]
North Tyris includes two snowy areas, notably the north-eastern one surrounding Noyel. Snow is twice as time-consuming to traverse as other types of terrain.
South Tyris (Elona+ only)
[
]
South Tyris is available to the player once the original Elona Main Quest is beaten.
Lost Irva (Elona+ only)
[
]
Lost Irva is available to the player once the Rehmido is beaten.
Aimwell (Elona+ only)
[
]
Aimwell, formerly also known as North Tyris.
Deed buildings
[
]
These buildings belong to you and can be placed using the appropriate deeds.
Elona Mobile
[
]
Some location are different in Elona Mobile. For example, the town of Larna is called Samuel. And there are mobile only locations, including the town of Mayne. See the paged Locations (mobile) and Deeds (mobile).