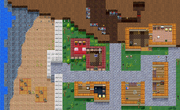 You see a fishing village,Valm. Beautiful sea stertches[sic]. - Description of Valm on the world map.
Valm is located on the southern part of the continent, branching off the main road to the west.
The regular NPCs include citizens, fishermen, bounty hunters, and an elder. The neutral NPCs include beggars, old people, swimmers, and town children.
There is an altar located in the cave in the upper part of town. The altar does not regenerate when the town resets, nor does it appear in Panic! quests.
It uses track number 2 for it's music (mcTown2).
Shops
[
]
Innkeeper (Rank 14)
Trader (Rank 12)
Goods vendor (Rank 20)
Food vendor (Rank 10)
Services
[
]
Trainer: Teaches Carpentry, Lock Picking, Detection, Magic Device, Performer, and Swimming.
Inn
Wizard
Informer
Altar: <Ehekatl of Luck>
Notable NPC's
[
]